Hello forum!
I have been working on a extension that allows me to get a connection to OOo and load documents (at least for now). I have the compiled java classes and the extension and I create a UNO Service createUnoService("java.blabla.bla") and access the methods. One of these methods, is an init that makes a Bootstrap.bootstrap() and gets component loaders... When executing the code in Eclipse it automatically gets an OOo instance and loads documents, but when I do the same I have no other option than to start the OOo in listening mode. I thought that by using bootstrap I could avoid starting in listening mode, I already have an instance running to connect to, but it does not. I only have found something like this for python.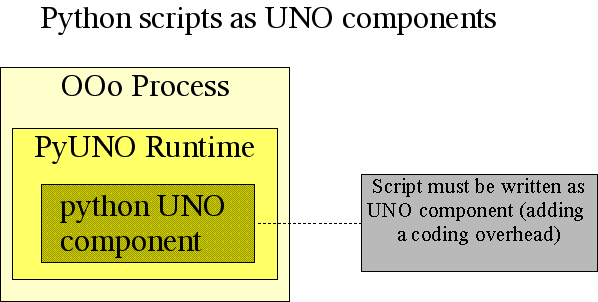 Where the Python is in the OOo process, is it also like that for java? Source:
http://www.openoffice.org/udk/python/python-bridge.html
So, question is, can I run a macro that uses a service from a java extension to bootstrap to an existing OOo instance?